Fortinet publikuje aktualizację systemu operacyjnego dedykowanego dla FortiGate oznaczonego numerem wersji 5.4.11. W nowej wersji oprogramowania producent zaimplementował kilka udoskonaleń modułu polityk bezpieczeństwa i metod wyświetlania informacji. Ma to na celu poprawienie wydajności pracy naszego firewall'a. W artykule znajdą Państwo kilka uwag i ciekawostek na temat tej wersji oprogramowania.
Co w wersji 5.4.11?
Oprócz wspomnianych wcześniej zmian w wyświetlaniu informacji w module polityk bezpieczeństwa warto wspomnieć o tym, że minimalna wymagana wersja FortiClient to 5.4.1 lub późniejsze. Warto podnieść wersję klienta Fortinet zanim podniesiemy wersję systemu operacyjnego FortiOS.
UWAGA: Niestandardowe profile sensora IPS nie są automatycznie przenoszone do nowej wersji systemu – 5.4.11. Jeśli używasz niestandardowych profili sensorów IPS, musisz je ponownie skonfigurować po aktualizacji.
Wskazówka:
Aby ułatwić przeniesienie konfiguracji, zachowaj kopię pliku konfiguracyjnego sprzed aktualizacji FortiOS. Pozwoli Ci to w łatwy i szybki sposób przywrócić Twoją niestandardowe profile IPS poprzez skopiowanie i wklejenie wycinka konfiguracji dotyczącej profili.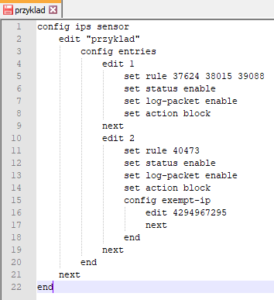 Odnajdujemy sekcję config ips sensor oraz kod odpowiadający naszym profilom. Widoczny na grafice powyżej kod skopiuję i wkleję w konsolę CLI na moim Fortigate. Po wykonaniu tej czynności mój profil IPS "przykład" poprawnie zaczyta się do obecnej konfiguracji.
Rozwiązane problemy:
Common Vulnerabilities and Exposures
Bug ID
Description
529745
FortiOS 5.4.11 is no longer vulnerable to the following CVE Reference:
l CVE-2018-13382
Znane problemy do rozwiązania:
Firewall
| Bug ID | Description |
| --- | --- |
| 364589 | LB VIP slow access when cookie persistence is enabled. |
FortiView
Bug ID
Description
368644
Physical Topology: Physical Connection of stacked FortiSwitch may be incorrect.
368644
Threat view: Threat Type and Event information is missing in the last level of the threat
view
375172
Using realtime auto update may increase chrome browser memory usage.
GUI
| Bug ID | Description |
| --- | --- |
| 289297 | Threat map may not be fully displayed when screen resolution is not big enough. |
| 297832 | Administrator with read-write permission for Firewall Configuration is not able to read or write firewall policies. |
| 355388 | The Select window for remote server in remote user group may not work as expected. |
| 365223 | In Security Fabric topology, a downstream FortiGate may be shown twice when it uses hardware switch to connect upstream. |
| 365317 | Unable to add new AD group in second FSSO local polling agent. |
| 365378 | You may not be able to assign ha-mgmt-interface IP address in the same subnet as another port from the GUI. |
| 368069 | Cannot select wan-load-balance or members for incoming interface of IPsec tunnel. |
| 369155 | There is no Archived Data tab for email attachment in the DLP log detail page. |
| 372908 | The interface tooltip keeps loading the VLAN interface when its physical interface is in another VDOM. |
| 373363 | Multicast policy interface may list the wan-load-balance interface. |
| 373546 | Only 50 security logs may be displayed in the Log Details pane when more than 50 are triggered. |
| 374081 | wan-load-balance interface may be shown in the address associated interface list. |
| 374162 | GUI may show the modem status as Active in the Monitor page after setting the modem to disable. |
| 374224 | The Ominiselect widget and Tooltip keep loading when clicking a newly created object in the Firewall Policy page. |
| 374320 | Editing a user from the Policy list page may redirect to an empty user edit page. |
| 374322 | Interfaces page may display the wrong MAC Address for the hardware switch. |
| 374363 | Selecting Connect to CLI from managed FAP context menu may not connect to FortiAP. |
| 374373 | Policy View: Filter bar may display the IPv4 policy name for the IPv6 policy. |
| 374397 | Should only list any as destination interface when creating an explicit proxy in the TP VDOM. |
| 374521 | Unable to Revert revisions in GUI. |
| 374525 | When activating the FortiCloud/Register-FortiGate, clicking OK may not work the first time. |
| 375036 | The Archived Data in the Sniffer Traffic log may not display detailed content and download. |
| 375227 | You may be able to open the dropdown box and add new profiles even though errors occur when editing a Firewall Policy page. |
| 375259 | Addrgrp editing page receives a js error if addrgrp contains another group object. |
| 375346 | You may not be able to download the application control packet capture from the forward traffic log. |
| 375369 | May not be able to change IPsec manualkey config in GUI. |
| 375383 | The Policy list page may receive a js error when clicking the search box if the policy includes wan-load-balance interface. |
| 379050 | User Definition intermittently not showing assigned token. |
Pozdrawiamy,
Zespół B&B
Bezpieczeństwo w biznesie